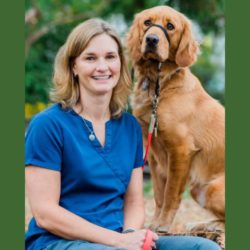 Dr. Lori Huerter
I studied veterinary medicine at the Ontario Veterinary College in Guelph and graduated in 1999.  For my first seven years after graduation I worked in a mixed-animal practice, travelling from farm to farm and working with multiple species.  I met many wonderful people and animals, but when my husband and I decided to start a family, I began a new chapter of my veterinary career.  Since 2006, I have focused exclusively on small animal medicine and surgery.  Narrowing my focus of practice has helped me increase my expertise in small animal medicine.
My husband and I have two beautiful children.  We lead an active lifestyle and love outdoor activities.  In the summer we enjoy hiking, biking, running, water sports, soccer and ultimate frisbee.  In the winter we spend a lot of time at the arena watching our children play hockey, and we also love to ski.
As a veterinarian, it is my goal to help owners keep their pets healthy and happy, so they can enjoy many years together.  Animals enrich our lives in many ways, and the bond we share with them is unparalleled.  I thoroughly enjoy my role in providing the highest level of care for your pets, and I feel privileged to be part of the team at Talbot Animal Hospital.